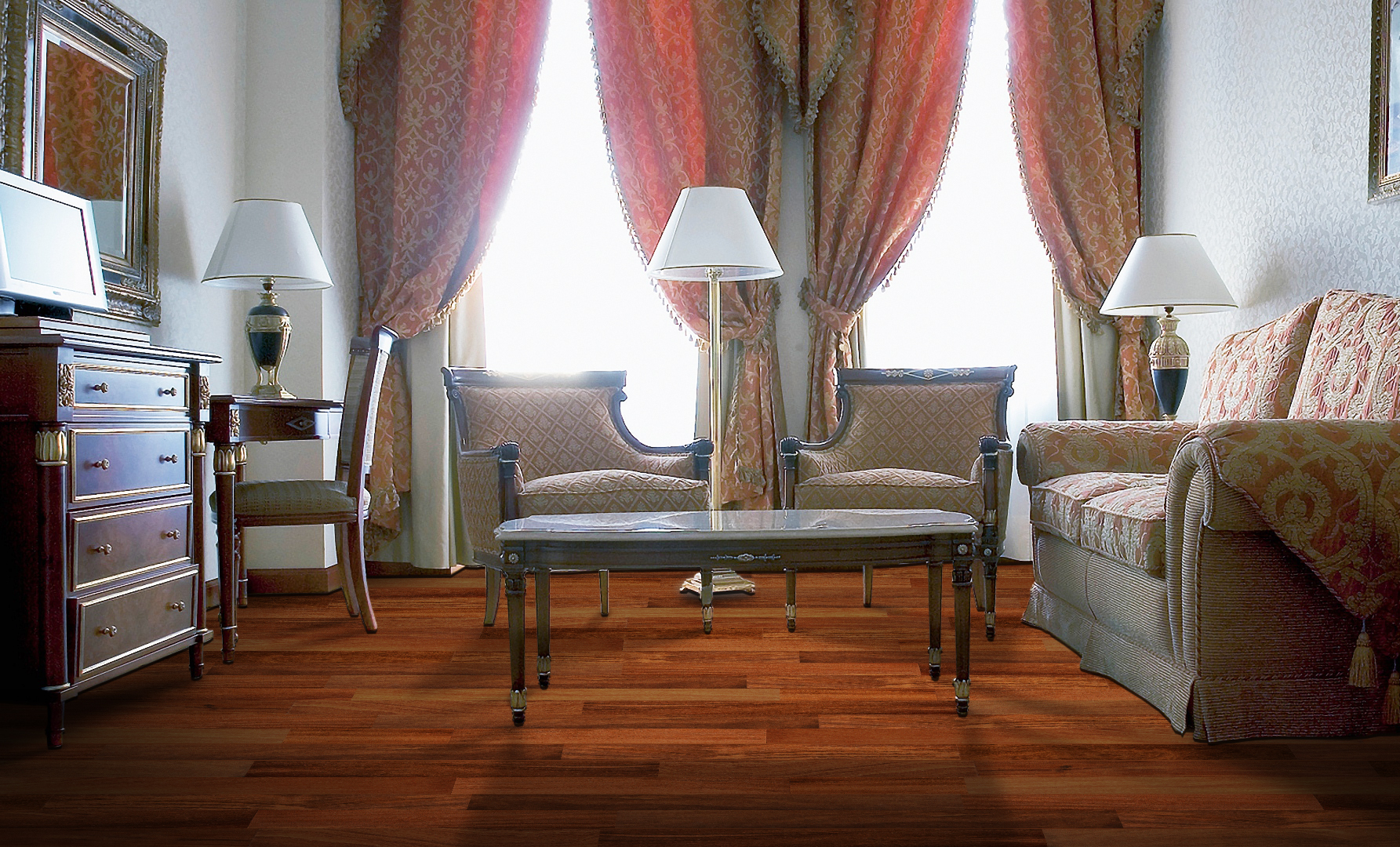 Application of FERMA Bamboo Flooring
FERMA explains the application of our bamboo flooring.
All the Products
Bamboo – Tiger is strong and durable. It's appropriate for Nail Down, Glue Down, Floating with Glue installation.
Application of FERMA Bamboo Flooring
Is Bamboo Flooring Durable?
Yes, bamboo flooring is highly durable. The Janka Scale durability rating for strand woven bamboo is 2000-3200. This peaks the Janka Scale.
Is Bamboo Flooring a good solution for my basement, living room, bathroom, bedroom and kitchen?
Basement:

Not a great idea. Bamboo flooring is not water-resistant, although it's better than solid hardwood.

Kitchen:

An Ok choice. Bamboo looks much like hardwood flooring, and it can range in color from light tan all the way to burnt brown. Because it is both harder, and more water resistant than wooden floors, it might be an OK choice in the kitchen.

Living room:

A great choice if you are looking to use a sustainably harvested material for your kitchen floor.

Bathroom:

An Ok choice. Although bamboo is more water-resistant than solid hardwood, it can still suffer from swelling, flooding and stains.

Bedroom:

Yes, it's a great choice. Bamboo flooring can come in quite a variety of styles. A high-contrast grain and stain can create an exotic look, for an effect that is playful and energetic rather than soft and tranquil.
Is Bamboo Flooring a good product for rent properties?
Yes bamboo flooring has many advantages:
It's less expensive: Bamboo is one of the most affordable flooring materials on the marketing today.
It's easy to install: There is several ways bamboo flooring can be installed but one of the easiest and quickest is the floating floor option. Since this takes fewer materials and a little time, building managers can save a tremendous amount in installation costs.
It's easy to maintain: This is the big advantage in rent units that will be home to various tenants over the years. Because bamboo is easy to maintain and can take a fair amount of abuse, it's a perfect flooring choice for building managers. It handles spills better than hardwoods and simply needs to be swept and an occasional lightly damp mop or Swiffer to keep them looking as beautiful as the day they were installed.
It's extremely durable: Certain types of bamboo are extremely strong and durable and strand woven bamboo has a higher Janka Hardness Rating than every other wood floor on the market.
It goes with most décor: Although bamboo at first glance has the overall appearance of hardwood, upon closer inspection it has a very distinct and unique look to it that is very elegant and trendy.
It's very available material: With its recent popularity, bamboo is no longer a difficult material to find. At this point in North America most building supply companies and home improvement center stock a full range of bamboo planks so you have your choice of a manufacturer as well.
It's a green choice: Bamboo is one of the most ecologically friendly flooring options on the market today. Because it is made from a grass instead of a tree, it takes as little as five to seven years to renew itself. Compare that to the 15 to 20 years it can take a tree to do the same. As more and more consumers are demanding greener choices in their lives, having the ability to advertise your rental unit's building materials as eco-friendly will give you a leg up on the competition in your area.
Reference: 
http://flooring.about.com/od/kitchen-floors/a/Bamboo-Flooring-In-Residential-Kitchens.htm

https://www.ambientbp.com/blog/advantages-of-bamboo-flooring-in-rental-properties