Finding a Reliable Contractor to Install Your Floors
FERMA Flooring offers a "Find a Retailer" feature on its website. This is a good way to locate a reliable flooring retailer who will sell you wood floors at a reasonable price. However, this is only the first step. Proper installation is imperative to preserving your wood floors. As such, finding a reliable contractor to install your floors should be an important concern for consumers.
Many retailers offer in-home installation as a service. However, for those on a budget, finding an independent contractor can be a good way to save a little money. Still, solid hardwood floors can be tricky to install; this makes finding the right contractor all the more important. Here's how to find a good one:
Research is Key
 Doing a little advance scouting can go a long way in terms of finding a good contractor. Retailers will often provide customers with a list of independent contractors for hire: call them. It's in retailers' best interests to provide you with reliable contractors (if anything goes wrong with installation, you will most likely blame the retailer for giving you bad advice).
Similarly, talk to your neighbors about their experiences with various contractors. Look at their floors and see how they're holding up; this will give you a good idea of the installation quality.
Finally, in today's internet age, online reviews are king! There are plenty of sites like HomeAdvisor, Houzz, and even Yelp that provide detailed reviews of contractors' work.

Getting a Quote
After you have looked into a few contractors, you should ask them for a quote. A thorough price quote is the best way to hold a contractor accountable for their work. Make sure the quote lays out exactly what services they are going to provide for the price they offer. Things like removal fees and prep work should be included in the quote; this ensures that there will be no hidden costs.
A good way to make sure that the quote is reasonable is to get more than one. Reach out to at least three contractors. Beware of prices that are either too high or too low; if a contractor is offering to install your floors below market value, then they are probably not going to do a good job.
Things to watch for
It is important to keep contractors accountable by making sure they are installing your floors the right way. This might seem counter-intuitive: the whole reason you hired a contractor in the first place is because you didn't know how to install the floors yourself. How are you supposed to know if your contractor is doing a good job? Here are a few things to look for:
Did they prep the sub-floor? This is the most important thing a contractor can do to preserve your floors. Prepping the sub-floor by checking moisture levels and cleaning accumulated debris ensures that your floors will stay healthy.

Did they seal the room? Installing wood floors can be a messy business. Make sure your contractor seals the room to avoid having dust spread throughout your house. Working clean is a good signifier of professionalism.

Did they use enough nails? Hardwood floors need to be fastened to the sub-floor to prevent them from moving and squeaking. A bad contractor will cut corners and save time by not using enough nails to fasten your new floors to the sub-floor. Make sure that there are at least two nails in every board.
If you still have questions about finding a reliable contractor to install your floors, please contact us. We would be happy to assist you and answer any questions that you might have.
Summary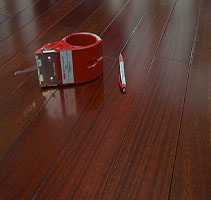 Article Name
Finding a Reliable Contractor to Install Your Floors
Description
Proper installation can help preserve your wood floors. As such, finding a reliable contractor to install your floors is crucial. Here's how to find one:
Author
Publisher Name
Publisher Logo

Learn About Our
Find a Retailer