White Oak – Natural – 209N

Note: Samples & Pictures are representation of wood flooring, but they cannot be used as an exact color or wood grain and character comparison. Wood is a product of nature. A fully installed floor may have variation in color,tone and grain which this sample & picture may not show.
PRODUCT OVERVIEW
The creamy, soft colors of white oak create a light and serene yet elegant mood to the atmosphere. It is the most common wood flooring used in homes. In a modern setting, the look is casual and unfussy. 
Summary
SPECIFICATIONS
Flooring Type
Prefinished Solid Wood Flooring Flooring type describes the flooring category. Every flooring category suits specific room design need.
Collection
Northern Oak Collections breaks down flooring type according to wood species.
Grade/Series
Exclusive Series breaks down collection according to construction type or price range.
Construction Type
Solid Wood Flooring Construction relates specifically to solid hardwood, engineered hardwood, bamboo, laminate, or luxury vinyl.

Finish
Aluminum Oxide The protective surface coating found on all flooring.
Hardness
1290 The density/hardness of the wood species and its ability to withstand foot traffic, children and pets will impact its wear performance, and will vary from species to species.
DIMENSIONS
Width
3 1/2" (actual size: 90mm)
Thickness
3/4" (actual size: 18mm)
LOOK
Edge
Micro-beveled Describes the way the hardwood and laminate board edges and ends are cut.
Surface Style
Smooth There are three type of surface style: smooth, handscraped, wire brushed.
Gloss Level
55-60% Gloss describes the shiny coating that adds a polished look to the floor's surface. Every flooring category (hardwood, vinyl, laminate) offers gloss levels (high, medium, low) from which to choose based on your room design and lifestyle.
INSTALLATION
Installation Level
On or Above Ground There are 3 different floor levels: above grade, on grade, and below grade.
Acclimation
5-7 days The amount of time needed for adjusting to the surrounding environment in the room.
Additional Information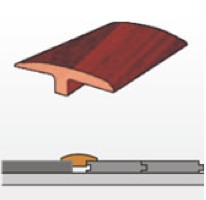 The T-Molding helps you seamlessly transition between your floor areas of the same height.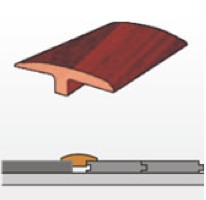 The T-Molding helps you seamlessly transition between your floor areas of the same height.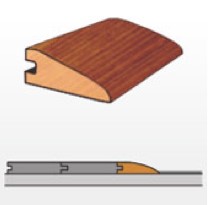 The reducer is used when transitioning from a higher flooring surface, such as wood or laminate, to a lower flooring surface.
Available in: Bamboo, Engineered Hardwood, Laminate, Luxury Vinyl Plank, Luxury Vinyl Tile, Solid Handscraped Hardwood, Solid Hardwood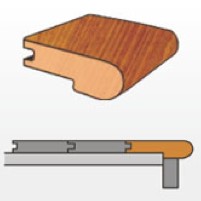 The stair nose molding (i.e. stair nose) sits at the edge of the stair steps to round out the edges for safety and aesthetic reasons.
Available in: Bamboo, Engineered Hardwood, Laminate, Luxury Vinyl Plank, Luxury Vinyl Tile, Solid Handscraped Hardwood, Solid Hardwood
Certificates