Subfloor vs Underlayment
Subfloor vs Underlayment – Know the Difference
While they are two separate and different products, there tends to be some confusion with subfloor vs underlayment. Both serve an important purpose when it comes to laying down new flooring. Knowing the difference and why they are important is beneficial, especially if you are tackling new flooring as a DIY project.
What is a Subfloor?
The subfloor is typically something only builders and flooring installers deal with, as it is the piece of flooring that is closest to the floor joists. It is the structural flooring that provides a solid and stable flat surface to support an interior flooring like laminate or hardwood.
Types of Subflooring
Plywood is the most common material used for subflooring because it is flat, level and relatively strong.  It comes in different types such as cedar, pine and even water resistant varieties. When combined with a waterproof glue, water resistant plywood subfloor is perfect for bathrooms. The pine variety is often used as a subfloor in homes and apartment buildings.
Flakeboard and particleboard are composed of flakes and chips of wood pressed and glued together. These are another type of subflooring, but they are not commonly used unless it is in an area where water exposure is not a concern.
What is Underlayment?
A protective or noise-reducing barrier, underlayment goes on top of the subfloor before the flooring material is installed. It is laid over the floorboards that are secured to the floor joists. Subfloor is typically standard and consistent throughout all different types of homes. The type of underlayment used will vary depending on what type of flooring is being installed.
Types of Underlayment
Be sure to understand the varieties and different uses of underlayments when choosing materials for your flooring project.
Regardless of the quality, resilient flooring requires a good subfloor and underlayment, or it could be doomed to failure. Because it is thin, resilient flooring is vulnerable to the problems that originate from beneath it. These include improperly placed nails, separating floor joists and moisture.
The most common underlayments for resilient flooring include hardboard, plywood, oriented strand board (OSB) and particleboard. For the best results, the most highly recommended underlayment is plywood. Hardboard can create small imperfections in the flooring from wood fibers resulting from nails. Particleboard is vulnerable to moisture and OSB has thickness inconsistencies that cause surface irregularities in the resilient flooring.
To choose the proper underlayment for hardwood or laminate flooring, be sure to review what is recommended by the manufacturer. If something other than the approved material, it could void the warranty. The underlayments for hardwood and laminate is standard foam, upgraded foam, combo underlayment and cork.
Standard foam is a thin layer of foam placed over the subfloor and if installed in an area prone to moisture, it should be paired with a moisture barrier. Upgraded foam is exactly what it sounds like, a higher quality foam product. It is often used when noise reduction between rooms is needed, although it does not reduce the sound of people walking on a hard flooring surface.
Combo underlayment is a great choice if moisture is a concern. It is composed of foam and a moisture blocking film and can be used over a plywood or concrete subfloor.
Cork is the most expensive choice when it comes to underlayments. It is the preferred choice to achieve noise reduction between floors but does not increase the comfort level of walking on the flooring as some may think.
Subfloor vs Underlayment
While these two are different, they are both important to the finished look and integrity of your new flooring. If your subfloor is weak, uneven or has noticeable bumps ruts or imperfections, and underlayment may not be enough to get the smooth surface necessary before laying new flooring. If your subfloor is in good condition, the underlayment will provide the proper foundation and help ensure you get the most when it comes to the stability, durability, and beauty of your new flooring.
Now that you know the difference between the two, you can easily see it isn't a matter of subfloor vs underlayment. Both are equally important, but if you are still confused with subfloor vs underlayment or you're not sure which underlayment is best for your new flooring, you might want to check with a flooring professional.
At Ferma Flooring, all of our efforts are devoted to delivering the highest quality products at reasonable prices and with complete customer satisfaction, while protecting natural resources. Explore all of our products and find a retailer near you for all your flooring needs.
Summary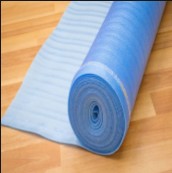 Article Name
Description
The confusion with subfloor vs underlayment can become a problem if your not sure which is which when installing flooring.
Author
Publisher Name
Publisher Logo

Learn About Our
Find a Retailer