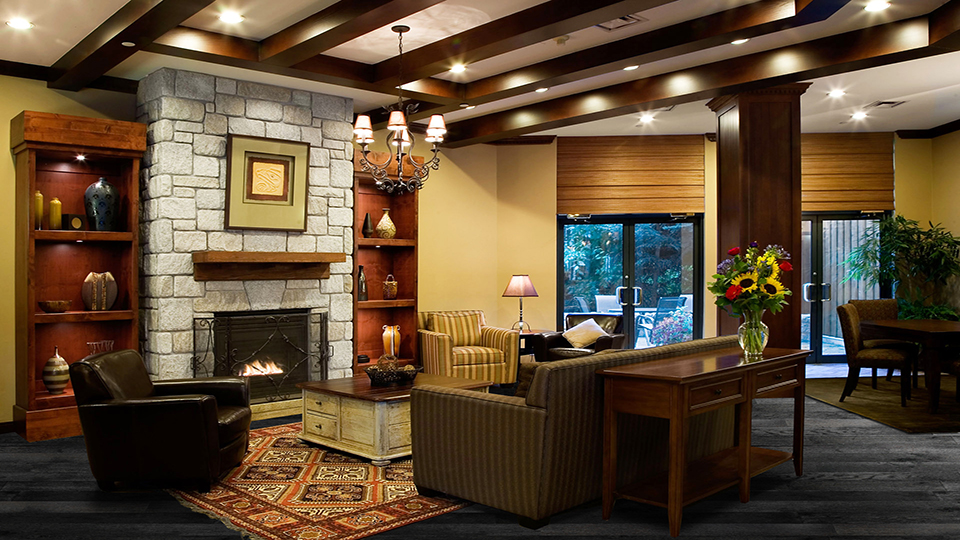 Classic Chestnut represents where beauty and function blend together. It is reminiscent of traditional style.
What is Vinyl Flooring?
What's the history of vinyl flooring, and what's today's vinyl flooring?
Vinyl has been a popular flooring choice in American homes for decades. But if you are        thinking about "cheaper, less-than-glamorous" floor covering, think again! That might have been true in years past but things have changed and so has vinyl. Today's vinyl flooring – as many of the big-name manufacturers are quick to point out – is not your grandmother's  kitchen flooring.
The first rubber floor tiles debuted sometimes in the 12th to 13th centuries, but declined in popularity toward the end of the 17th century. The use of plain, square, undecorated red clay tiles become common throughout Europe during the 18th century.
Linoleum was invented and patented in 1845. It was first manufactured in Scotland in the 1860s, and the first U.S. plant was built in 1872. Linoleum remained popular until after World War ||, when easy-to-maintain and durable vinyl flooring was introduced.
In 1894, Philadelphia architect Frank Furness patented a system for rubber floor tiles. Colors were limited, but the tiles could be laid in geometric patterns to produce an eye-catching design. By the end of the century, recessed tabs allowed rubber tiles to be nailed to the subfloor, and soon the tabs were eliminated altogether. There tiles were durable, sound-deadening, easy to clean and easy to install. However, they also stained easily and deteriorated over time from exposure to oxygen, ozone and solvents, and were not suitable for use in basements where alkaline moisture were present.
The first cork tile floor were introduced in 1904, and became the most popular type of resilient flooring in the 1920s. It was available in a limited range of colors and designs, but was expensive and porous.
Asphalt tile arrived on the scene in the 1920s and, by the 1950s, was the most widely used floor tile on the market, fueled by low initial cost and easy installation. There tiles were tough, durable, highly resistant to abrasion and moisture, and fire resistant, but the styles and patterns were limited.
Then, in 1933, vinyl made its big splash when vinyl composition tiles was displayed at the Century of Progress Exposition in Chicago. Because of the scarcity of vinyl during the war years, vinyl flooring was not widely marketed until the late 1940s, but then quickly challenged its competitors. Originally used only in high traffic areas, vinyl flooring eventually became the most popular choice for flooring in just about any hard-surface application.
Today's vinyl floors are manufactured using the latest advances in flooring technology. Using advanced 3D imaging technology. a photograph of wood is transferred directly to the vinyl flooring . Each vinyl flooring then uniquely embossed to match the appropriate texture. The shiny, plastic-looking floors that were once prone to scratching and scuffing, now feature more matte finishes, and are far more durable, easy to maintain, and wear-resistant, and easy on the budget. In addition to offering better performance, today's vinyl floor has more depth and texture than it did a generation ago. It offers a huge variety of colors, patterns, and trendy designs, with many high-end styles impressively mimicking the look, textures and levels of gloss of popular ceramic tiles, stone, and wood. Vinyl's built-in cushiony underlayment also makes it warmer and softer underfoot than real ceramic tile, stone, and wood.
Today's vinyl is highly resistant to mold, mildew, and moisture, making it one of the most popular flooring options for kitchens, bathrooms, laundry rooms, and just about any room in which occasional spills and moisture are a concern. Vinyl tiles have high resilience to abrasion and impact damage and can be repeatedly refinished with chemical strippers and mechanical buffing equipment. If properly installed, Vinyl can be easily removed and replaced when damaged.
What's the environmental consideration of Vinyl Flooring?
During the vinyl flooring manufacturing process, especially for vinyl composition tile, most of the scrap is recycled for use in the finished product. In addition, some vinyl flooring manufacturers produce products made with recycled vinyl content. This material can be both post-consumer (i.e., material that's been used for its intended purpose and is being recovered for recycling) and post-industrial (the scrap left over from a product manufacturing process). This material represents many tons of vinyl scrap per year that would otherwise go to a landfill.
Vinyl flooring can be disposed of in landfills without posing special problems. Because it is an essentially inert material, no special handling is required.
What is the options of today's Vinyl Flooring?
For residential use, vinyl is available in a few different formats, including sheet vinyl, solid vinyl tiles, luxury vinyl tiles and luxury vinyl planks.
Sheet vinyl

generally comes in 6" or 12" wide rolls. When installed, this single sheet of vinyl is rolled flat and cut to the shape of the floor. As with wall-to-wall carpet, if the floor is too large for one sheet, an additional sheets are added, which creates seams where the sheets meet. In terms of installation, there are three types of sheet vinyl: felt-backed, vinyl-backed, and modified loose-lay. The most common, felt-backed, has an added layer of felt for comfort and strength and is installed using an adhesive. Vinyl-backed, the least common, is glued only at strength, is typically installed using double-sided tape.

Solid vinyl tile (SVT)

is a pliable tiles typically available in individual 12" by 12" inch squares or in strips of three. SVT most often includes a photographic print coating that lies between the backing and a clear layer of vinyl. These tiles often include an adhesive backing and require a smooth installation surface. While tiles can be installed over old flooring that is clean and in good condition, they should not be installed directly over old flooring that is clean and in good condition. For these installations, the addition of a subfloor is recommended. Vinyl tiles without adhesive require spreading an adhesive over the existing floor or subfloor before setting the tiles. Since tiles have more edges, this may cause them to become loose sooner than with sheet vinyl.

Luxury vinyl tile (LVT)

is the ultimate in high-end vinyl flooring, offering 3D printing technology which adds depth and realism, durability, with a high performance wear layer to a vinyl tile product. LVT offers the option of a less permanent floor than wood or ceramic tile, especially with the growing popularity of floating LVT floors. When a consumer selects a wood or ceramic floor, they should really be in love with it, as it will probably be in the home for a very long time. Whereas, LVT offers the option of changing the room design much easier.

Luxury vinyl plank (LVP)

is luxury vinyl flooring that looks like wood planks in everything from color to species. Surface textures often include the look of scraping or embossing, which dramatically heighten the realism. Also like wood, planks may be installed in sophisticated ways—in brick fashion, diagonally, and so on. The result? Stunning.
Reference: